Chamberlain Family History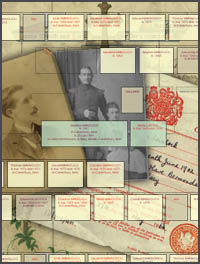 I have been researching the Chamberlain family history for several years now, beginning with my great-grandfather, Horatio W. Chamberlain. He was a well known druggist in Alton, Illinois from 1870 to 1912, when he retired. The Chamberlain lineage has been traced back to William Chamberlain, b. 1619 Billericay, England, d. May 31, 1706 Billerica, Massachusetts. Joshua Lawrence Chamberlain, the famous Union General in the Civil War, is my 4th cousin 4 times removed. I've recently discovered that my 8th great-grandmother was Rebecca Towne Nurse, famous for the Salem witch trials. My research has hit some dead ends (no pun intended)on my mother's side. I have researched the Graham family through Madison, Greene and Pike Counties in Illinois. I am looking for information on the ancestors of John Wesley Graham, b. July 04, 1865, d. September 11, 1950 Greene County, Illinois. He was married to Louisa Jane Callender, b. February 04, 1868 Pike County, Illinois, d. January 11, 1946 Greene County, Illinois.
This website contains records on 2158 individuals, cross-referenced to 148 sources. There are links to 512 multimedia files.
Website created by dale%dchamberlain.net (replace % with @ using GEDmill.
Created on 07 November 2015.